Srirangam Temple
Located in Srirangam, Tiruchirappalli, Tamil Nadu, the Srirangam Temple is a Hindu shrine to the god Sri Ranganathar. Considered a holy site for devotees of Vishnu, it is among the most significant places of worship in the world. Some of the alternative names for the Srirangam Temple are the Ranganathaswamy Temple, the Ranganathar Temple, and the Sri Ranganatha Temple. Besides Sri Ranganathar, Rangan, Aranganathar, Ranga, and Thenarangathan are all names for this deity.
As one of the largest and most impressive temple complexes in the world, Srirangam Temple is a must-see for any visitor to India. The Ranganathaswamy Temple was likely built during the Vijayanagara dynasty, and it is an excellent example of the Hindu architectural style (1336–1565). Sri Vaishnavism, namely the Thenkalai sect, is practised and worshipped in the temple.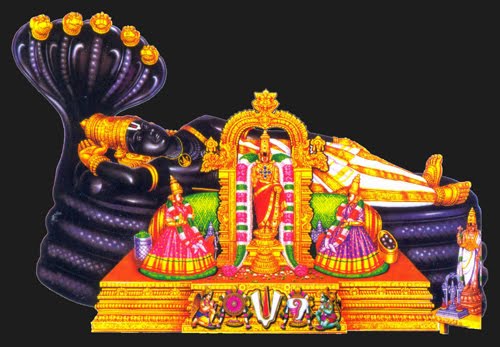 Special Features
The vast complex is still home to iconic elements that serve as shining examples of first-rate public amenity design for nearby residents and visitors. The granaries and water storage facilities fall into this category. In addition, the temple is home to several chariots that are used during ceremonies and celebrations.
A visit to the Surya soc, dedicated to the sun, and the chandra pushkarani, dedicated to the moon, two of the temple's twelve primary water tanks, should be high on the list of must-sees for any visitor. These two water storage tanks can contain up to two million litres of water collectively. Many grain storage facilities are included within the site as well. That way, when people come to the temple, they can eat, and when the less fortunate in the area need food, the temple kitchen will be ready to help.
Architecture
The architectural splendour of the Srirangam Temple is reason enough to visit it, even if you have no interest in the temple's religious or cultural importance. As the biggest Hindu temple in the world, the complex is a prime example of the distinctive Dravidian architectural style.
With a total area of 158 acres, it features seven prakarams, or compounds, that are meant to reflect the seven chakras that are associated with our physical and spiritual bodies. There are a total of 81 shrines inside the main complex area, along with 21 magnificent gopurams and 39 opulent pavilions. The edifice was constructed entirely out of stone and features intricate sculptures that date back to the Middle Ages. Frescoes adorn the walls of the structure, illustrating stories from Hindu texts and mythology and moments from the lives of religious scholars.
The Temple's Hall of a Thousand Pillars is a remarkable example of architectural design. This granite construction was constructed sometime between the 13th and 15th centuries, and it contains a mandapam (hall) and water tanks. The eight monolithic pillars, which display magnificent sculptures of soldiers in motion, deserve special attention from visitors.
How to Reach Srirangam
(By Road)
Road travel to Srirangam is possible through a bus heading in the direction of Trichy. Trichy is easily accessible by bus from many major cities and towns in South India, including Chennai, Kanyakumari, Hyderabad, Bangalore, Coimbatore, Mysore, Mangalore, Kochi, Rameshwaram, Thanjavur, Madurai, Chidambaram, Thoothukudi, Kollam, Tenkasi, and Tirupati. From Delhi to Trichy, you can take a bus that is specifically designed for the trip.
(By Train)
Srirangam hosts a train station where travellers can board trains. Thanks to the Chennai-Kanyakumari rail connection, trains can arrive at the station from Chennai. There is an excellent rail network that links both Chennai and Kanyakumari to the rest of India's major cities and smaller villages. It is possible to travel between Chennai and Srirangam by taking a train going to Kanyakumari.
(By Air)
Srirangam's nearest airport is Tiruchirappalli International Airport, which is located in the city of Trichy. The airport has frequent flights to and from Bangalore, Chennai, Hyderabad, Kolkata, and Delhi, among other significant cities in India. Airlines from Singapore, Abu Dhabi, Dubai, Kuwait, and Sharjah also land there. A private automobile service is available for hire at the airport for anyone wishing to travel to Srirangam.
Poojaa Timings/Srirangam temple dharshan timings
Sri Ranganathar Sannathi
Viswaroopa seva (06:00 to 07:15) A.M.
Pooja time – (No Darshan) (07:15 to 09:00) A.M.
General Darshan Timings (09:00 to 12:00) A.M.
Pooja time – (No Darshan) (12:00 to 13:15) P.M.
General Entrance – in All Seva timings 
Darshan Timings – (13:15   to 18.00) P.M.
Pooja time – (No Darshan) (18.00 to 18:45) P.M.
Darshan Timings (18:45 to 21.00) P.M.
No Darshan after 21.00 at Sanctum Sanctorum   
Quick Seva – Rs.250/- per head.   
Viswaroopa Seva – Rs.100/- per head. 
Enjoyable Moments
Festival seasons are the best times to visit the city, as the residents and visitors alike will be in a celebratory mood. Visit during the off-season if you don't want to deal with the raucous crowds that come with the celebrations. In Srirangam, one of the most well-attended temples is the Vaikunta Ekadasi Temple, where several religious ceremonies are carried out and worshippers celebrate the festival with one another. Srirangam, which is found on the Cauvery River's banks, is a scenic destination. Take a stroll along the river's banks and soak up the peaceful atmosphere and calm waters.
Srirangam is both an ancient and revered centre of Hinduism in India. Due to its geographical location, the little city of Tiruchirapalli is cut off from the rest of the province. However, the city's residents are noted for their religious devotion and respect for established customs. Come experience the unique vibrancy of its culture by visiting this seemingly hectic yet peaceful town. Srirangam is a destination you won't soon forget.
Sri Ranganatha Swamy Temple Contact Details
Location: Srirangam, Tamil Nadu 620006 · ~4.4 km
Timing: Open 06.00 , Closes 22:00
Frequently asked questions
Srirangam temple dharshan timings?
Darshan Timings – (13:15   to 18.00) P.M.
Srirngam temple vishwaroopa dharisanam timing?
Viswaroopa seva (06:00 to 07:15) A.M.