Terminal project bags safety award :
The award was given to the company for demonstrating a strong commitment to good health and safety management during 2022. According to the parameters fixed by the council for valuation, the airport project was selected for the award with 73.21% marks.
The Trichy International Airport's new terminal project has been awarded the international safety award by the British Safety Council in the first-class merit category.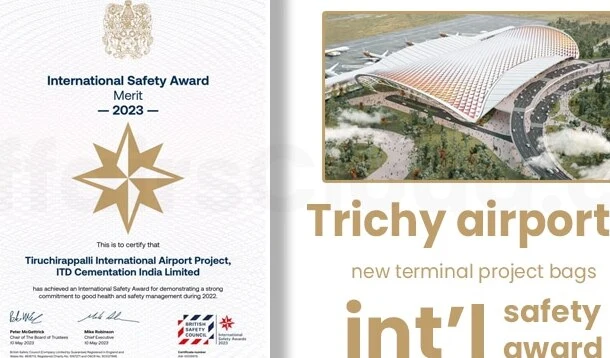 ITD Cementation India Limited, the company which has been engaged in the construction of the new terminal building in Trichy received the award on May 10.
The terminal building is being constructed as per the standards of 'GRIHA' (green rating for integrated habitat assessment) in which the incorporates renewable energy measures.
The British Safety Council gives away awards to set health and safety standards and celebrate the best practice. Successful applicants are awarded distinction, merit, or pass grades based on their final score, officials said.
We have been focusing on maintaining health and safety at the work site. We consider it a reward for our hard work," said ITD airport project director Dilipkumar.
Thakur said that the ITD had already received an award from the National Safety Council of India (NSCI) for their achievement in occupational safety and health for the year 2019.
Trichy airport new terminal building bags international safety award.